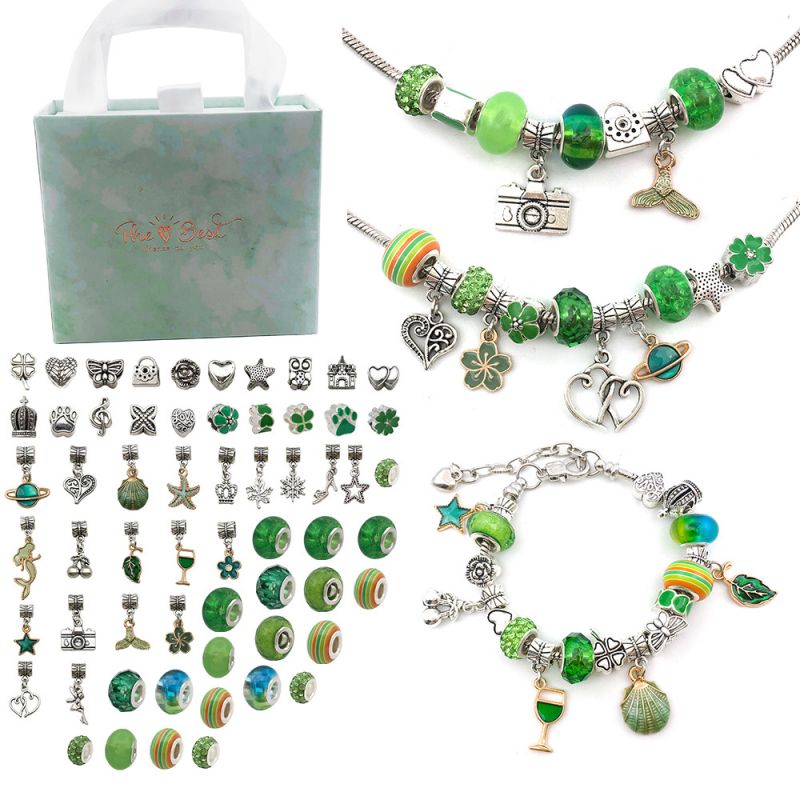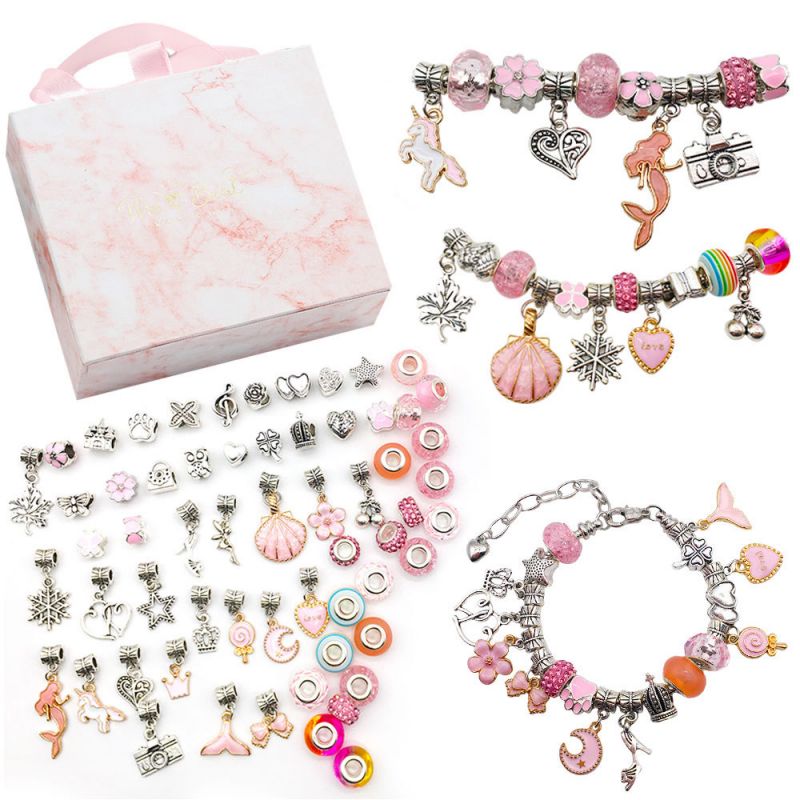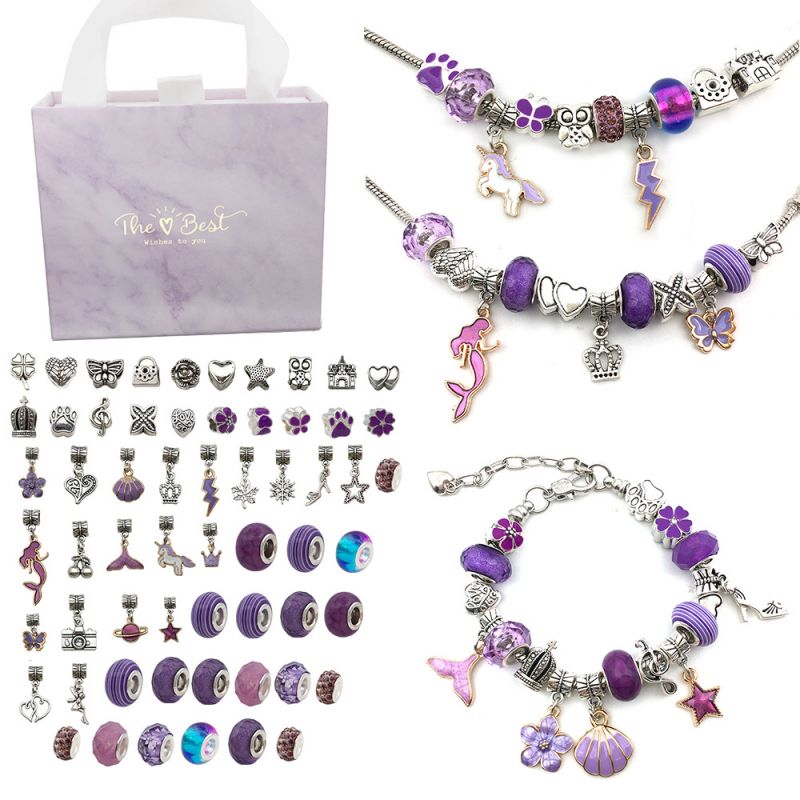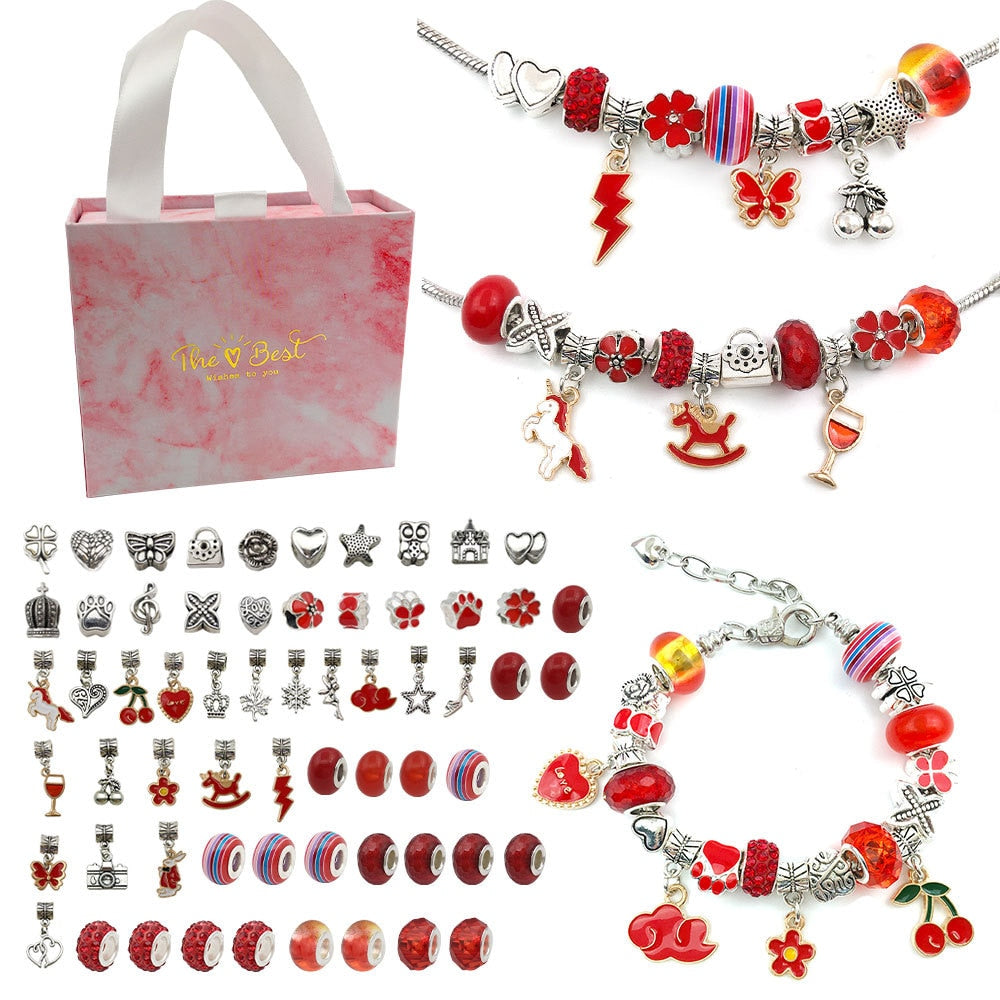 Sweet Bracelet Maker
𝘐 𝘢𝘣𝘴𝘰𝘭𝘶𝘵𝘦𝘭𝘺 𝘭𝘰𝘷𝘦 𝘵𝘩𝘪𝘴 𝘫𝘦𝘸𝘦𝘭𝘳𝘺 𝘮𝘢𝘬𝘦𝘳 𝘵𝘩𝘢𝘵 𝘐 𝘨𝘰𝘵 𝘧𝘰𝘳 𝘮𝘺 𝘬𝘪𝘥𝘴 𝘵𝘰 𝘶𝘴𝘦. 𝘔𝘺 𝘥𝘢𝘶𝘨𝘩𝘵𝘦𝘳 𝘭𝘰𝘷𝘦𝘴 𝘩𝘢𝘷𝘪𝘯𝘨 𝘧𝘳𝘪𝘦𝘯𝘥𝘴 𝘰𝘷𝘦𝘳 𝘢𝘯𝘥 𝘤𝘳𝘦𝘢𝘵𝘪𝘯𝘨 𝘵𝘩𝘪𝘯𝘨𝘴. 𝘛𝘩𝘪𝘴 𝘪𝘴 𝘢𝘯 𝘢𝘣𝘴𝘰𝘭𝘶𝘵𝘦𝘭𝘺 𝘱𝘦𝘳𝘧𝘦𝘤𝘵 𝘴𝘦𝘵 𝘧𝘰𝘳 𝘩𝘦𝘳 𝘵𝘰 𝘣𝘦 𝘢𝘣𝘭𝘦 𝘵𝘰 𝘤𝘳𝘦𝘢𝘵𝘦 𝘢𝘯𝘥 𝘮𝘢𝘬𝘦 𝘴𝘰 𝘮𝘢𝘯𝘺 𝘮𝘦𝘮𝘰𝘳𝘪𝘦𝘴 𝘸𝘪𝘵𝘩. 𝘛𝘩𝘪𝘴 𝘴𝘦𝘵 𝘤𝘰𝘮𝘦𝘴 𝘸𝘪𝘵𝘩 𝘦𝘷𝘦𝘳𝘺𝘵𝘩𝘪𝘯𝘨 𝘴𝘩𝘦 𝘤𝘰𝘶𝘭𝘥 𝘦𝘷𝘦𝘳 𝘯𝘦𝘦𝘥. 𝘛𝘩𝘦 𝘷𝘢𝘳𝘪𝘦𝘵𝘺 𝘰𝘧 𝘣𝘦𝘢𝘥𝘴 𝘪𝘴 𝘴𝘰 𝘢𝘮𝘢𝘻𝘪𝘯𝘨 𝘵𝘩𝘦𝘳𝘦 𝘢𝘳𝘦 𝘴𝘰 𝘮𝘢𝘯𝘺 𝘱𝘦𝘳𝘧𝘦𝘤𝘵 𝘰𝘯𝘦𝘴 𝘧𝘰𝘳 𝘩𝘦𝘳 𝘵𝘰 𝘶𝘴𝘦, 𝘢𝘯𝘥 𝘵𝘩𝘦𝘳𝘦 𝘢𝘳𝘦 𝘦𝘷𝘦𝘯 𝘥𝘪𝘧𝘧𝘦𝘳𝘦𝘯𝘵 𝘰𝘯𝘦𝘴 𝘵𝘩𝘢𝘵 𝘩𝘦𝘳 𝘧𝘳𝘪𝘦𝘯𝘥𝘴 𝘢𝘳𝘦 𝘢𝘣𝘭𝘦 𝘵𝘰 𝘶𝘴𝘦 𝘢𝘯𝘥 𝘴𝘩𝘦 𝘤𝘢𝘯 𝘴𝘩𝘢𝘳𝘦. 𝘐 𝘭𝘰𝘷𝘦 𝘵𝘩𝘢𝘵 𝘵𝘩𝘦 𝘤𝘩𝘢𝘳𝘮𝘴 𝘩𝘢𝘷𝘦 𝘴𝘶𝘤𝘩 𝘢 𝘷𝘢𝘳𝘪𝘦𝘵𝘺 𝘰𝘧 𝘵𝘩𝘪𝘯𝘨𝘴 𝘰𝘯 𝘵𝘩𝘦𝘮, 𝘪𝘯𝘤𝘭𝘶𝘥𝘪𝘯𝘨 𝘲𝘶𝘰𝘵𝘦𝘴 𝘢𝘯𝘥 𝘢𝘯𝘪𝘮𝘢𝘭𝘴! 𝘐𝘵 𝘢𝘭𝘭 𝘤𝘰𝘮𝘦𝘴 𝘪𝘯 𝘴𝘶𝘤𝘩 𝘢 𝘨𝘳𝘦𝘢𝘵 𝘤𝘰𝘯𝘵𝘢𝘪𝘯𝘦𝘳 𝘪𝘯 𝘩𝘪𝘴 𝘱𝘢𝘤𝘬𝘢𝘨𝘦 𝘴𝘰 𝘯𝘪𝘤𝘦𝘭𝘺. 𝘛𝘩𝘪𝘴 𝘸𝘰𝘶𝘭𝘥 𝘮𝘢𝘬𝘦 𝘢 𝘧𝘢𝘣𝘶𝘭𝘰𝘶𝘴 𝘨𝘪𝘧𝘵 𝘧𝘰𝘳 𝘢𝘯𝘺𝘰𝘯𝘦. 𝘐 𝘭𝘰𝘷𝘦 𝘴𝘦𝘦𝘪𝘯𝘨 𝘮𝘺 𝘥𝘢𝘶𝘨𝘩𝘵𝘦𝘳 𝘴𝘰 𝘩𝘢𝘱𝘱𝘺 𝘢𝘴 𝘴𝘩𝘦 𝘮𝘢𝘬𝘦𝘴 𝘮𝘦𝘮𝘰𝘳𝘪𝘦𝘴 𝘢𝘯𝘥 𝘮𝘢𝘬𝘦𝘴 𝘣𝘳𝘢𝘤𝘦𝘭𝘦𝘵𝘴 𝘢𝘯𝘥 𝘯𝘦𝘤𝘬𝘭𝘢𝘤𝘦𝘴. 𝘛𝘩𝘪𝘴 𝘪𝘴 𝘴𝘰 𝘮𝘶𝘤𝘩 𝘧𝘶𝘯 𝘧𝘰𝘳 𝘩𝘦𝘳 𝘢𝘯𝘥 𝘢𝘵 𝘴𝘶𝘤𝘩 𝘢 𝘨𝘳𝘦𝘢𝘵 𝘱𝘳𝘪𝘤𝘦 𝘵𝘰𝘰. 𝘐 𝘸𝘰𝘶𝘭𝘥 𝘩𝘪𝘨𝘩𝘭𝘺 𝘳𝘦𝘤𝘰𝘮𝘮𝘦𝘯𝘥 𝘪𝘵!
⭐️⭐️⭐️⭐️⭐️
𝘕𝘪𝘬𝘬𝘪 𝘑.✅𝘝𝘦𝘳𝘪𝘧𝘪𝘦𝘥 𝘉𝘶𝘺𝘦𝘳
These beautiful bracelets are easy and fun to make, instantly attracting girls' attention, taking girls away from TV and cell phones for a while, and stimulating their creativity!
Features
DIY YOUR BRACELET

Use bracelets for DIY craft sets, creating unique jewelry charms craft, dangle, bracelets, keychains, and anklets.

DEVELOP CHILD'S IMAGINATION, CREATIVITY

Kids can create various shapes with their imagination with this pop beads set. Making bracelets and necklaces with hundreds of different combinations.DIY graft jewelry gift sets can promote kids' perception and discrimination of various colors and enhance their aesthetic appeal and visual senses.
HIGH-QUALITY MATERIAL

Jewelry charms made of high-quality alloy material, safe and harmless, non-toxic, not easy to rust or allergy, non-irritating, pretty, and comfortable to wear.

MEANINGFUL HANDMADE CRAFTS

Enjoy the fun of DIY handmade jewelry or make a meaningful craft gift and then give them to your friends and family as presents to express your best wishes.
BEST GIFT

Bracelets-making kit crafts is an excellent and thoughtful gift for your kids, friends, or family's children on many occasions, like birthdays, Christmas, anniversaries, festivals, etc. 
Shipping
Yes we ship anywhere in the world, and our shipping is free!
Our order processing time is 1-5 business days. After dispatch, it usually takes 5-20 business days for orders to be delivered.
When your items are shipped out, you should receive notification from us via email providing you with a tracking number.
If you haven't received one or if the tracking number doesn't work, its okay. Contact us and we'll fix it! If you need
more detailed information, please send us an email at info@byloh.com and we'll help you out!

You have 30 days to ensure you're delighted with your purchase.
*If for any reason you're not happy, you can contact our Customer Service Department within 30 days after purchase and let them know you'd like to return your order.