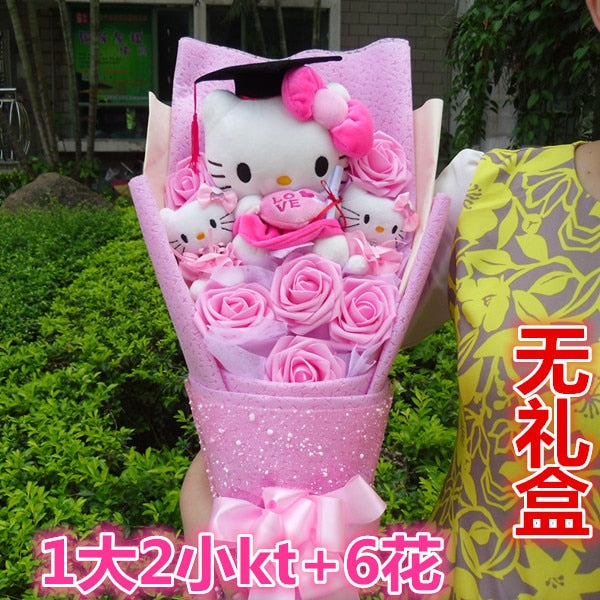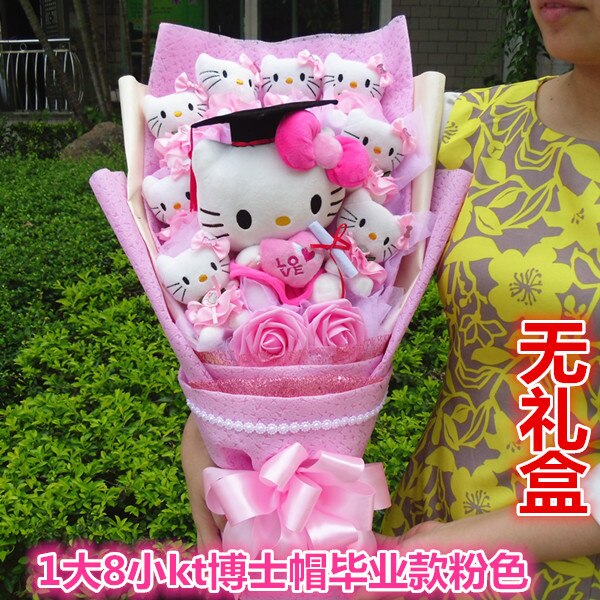 Sanrio Hello Kitty Bouquet Flowers
Hello Kitty Bouquet - Hello Kitty Flowers - Ramo Buchon
Indulge in the enchanting world of Hello Kitty with our mesmerizing Hello Kitty Bouquet Flowers. This delightful arrangement beautifully combines the elegance of fresh blooms with the timeless charm of everyone's favorite feline character, Hello Kitty.
Crafted with meticulous attention to detail, each blossom is hand-picked to ensure only the finest and most vibrant flowers make their way into this remarkable bouquet. From radiant roses to delicate lilies, the bouquet showcases a harmonious blend of colors and textures, creating an exquisite visual spectacle sure to captivate Hello Kitty enthusiasts' hearts.
 Whether you're celebrating a special occasion or surprising a loved one, the Sanrio Bouquet Flowers is a gift that goes beyond traditional floral arrangements. It's a whimsical statement piece that exudes joy, nostalgia, and a touch of playfulness, making it perfect for Hello Kitty devotees of all ages.
Not only does this enchanting bouquet serve as a feast for the eyes, but it also evokes a sense of warmth and delight. With Hello Kitty's iconic face adorning a charming accent, this Sanrio flower bouquet becomes an instant conversation starter and a cherished keepsake for those who hold a special place in their hearts for this beloved character.
Make a lasting impression with our Hello Kitty Flower Bouquet, designed to brighten any room and bring a touch of cheer to any occasion. Whether it's a birthday, anniversary, or simply a gesture of affection, this one-of-a-kind floral masterpiece is a surefire way to express your adoration while creating a lasting memory.
 Allow the magic of Hello Kitty roses to bloom in the hearts of your loved ones. Embrace the joy, enchantment, and whimsy this delightful bouquet embodies, and let Hello Kitty sprinkle her charm upon your world.
SPECIFICATIONS
workmanship: Handmade
Theme: TV & Movie Character
Recommend Age: 14+y
Recommend Age: 18+
Recommend Age: 12+y
Material: Plush
Item Type: Animals
Gender: Unisex
Filling: PP Cotton
Features: Stuffed & Plush
Certification: CE
CN: Guangdong
CN: Guangdong
Brand Name: Bandai
Shipping
Yes we ship anywhere in the world, and our shipping is free!
Our order processing time is 1-5 business days. After dispatch, it usually takes 5-20 business days for orders to be delivered.
When your items are shipped out, you should receive notification from us via email providing you with a tracking number.
If you haven't received one or if the tracking number doesn't work, its okay. Contact us and we'll fix it! If you need
more detailed information, please send us an email at info@byloh.com and we'll help you out!

You have 30 days to ensure you're delighted with your purchase.
*If for any reason you're not happy, you can contact our Customer Service Department within 30 days after purchase and let them know you'd like to return your order.