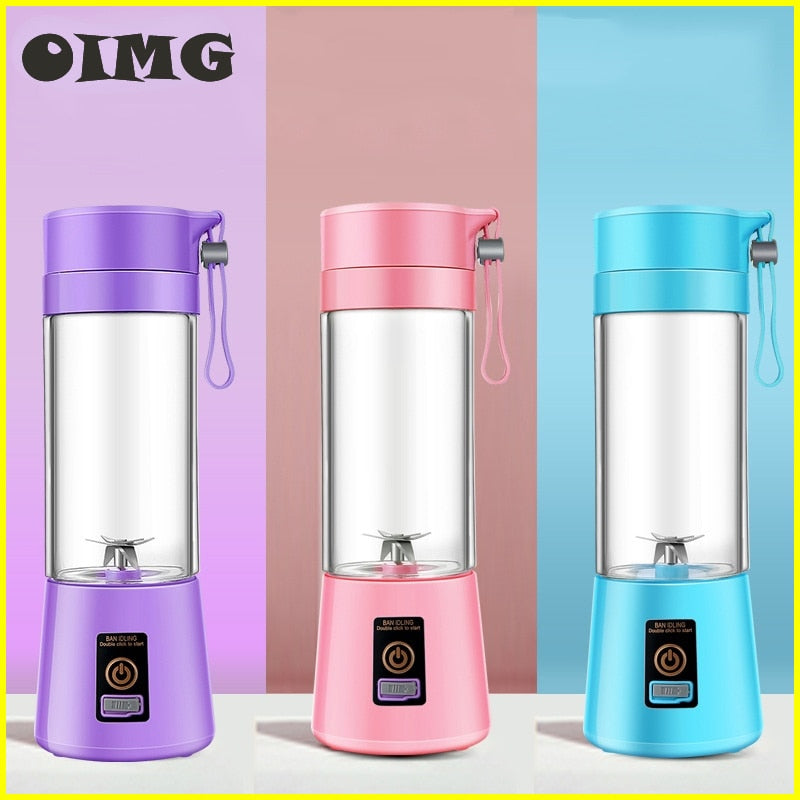 Portable Blender Smoothie
Descriptions:
1. The first use to charge more than 3 hours, 8 hours is better, otherwise it is easy to power shortage or not.
2. The cup body and the base must be tightened to rotate because the cup body and the base have an invisible protection switch, only the cup body can be tightened to reach the convenient working state.
3. Fruit must be cut into small pieces of 1.5 cm
4. After putting the fruit, you must add one-half of the water or milk of the amount of fruit, do not dry, easy to burn the motor. (Unless you have a lot of water, such as watermelon, you don't need water).
5. The cup should be inverted and the switch should be turned up before the head is turned up (otherwise the blade is easily caught by the fruit, the card machine does not turn). After the inverted position, it should be shaken about 45 degrees, and the juice extraction effect will be good. Mix a variety of fruits and vegetables.
6. This product is a small juicer, suitable for some fruits that are not very hard 
Specifications:
1. Commodity material: Material food-grade PC material + food-grade rubber seal 
2. Color: Purple / Pink / Green / Blue
3. Product capacity: 400ml
4. Product weight: 486g
5. Product packaging: Juice cup + box + charging cable + Instruction
Shipping
Yes we ship anywhere in the world, and our shipping is free!
Our order processing time is 1-5 business days. After dispatch, it usually takes 5-20 business days for orders to be delivered.
When your items are shipped out, you should receive notification from us via email providing you with a tracking number.
If you haven't received one or if the tracking number doesn't work, its okay. Contact us and we'll fix it! If you need
more detailed information, please send us an email at info@byloh.com and we'll help you out!

You have 30 days to ensure you're delighted with your purchase.
*If for any reason you're not happy, you can contact our Customer Service Department within 30 days after purchase and let them know you'd like to return your order.