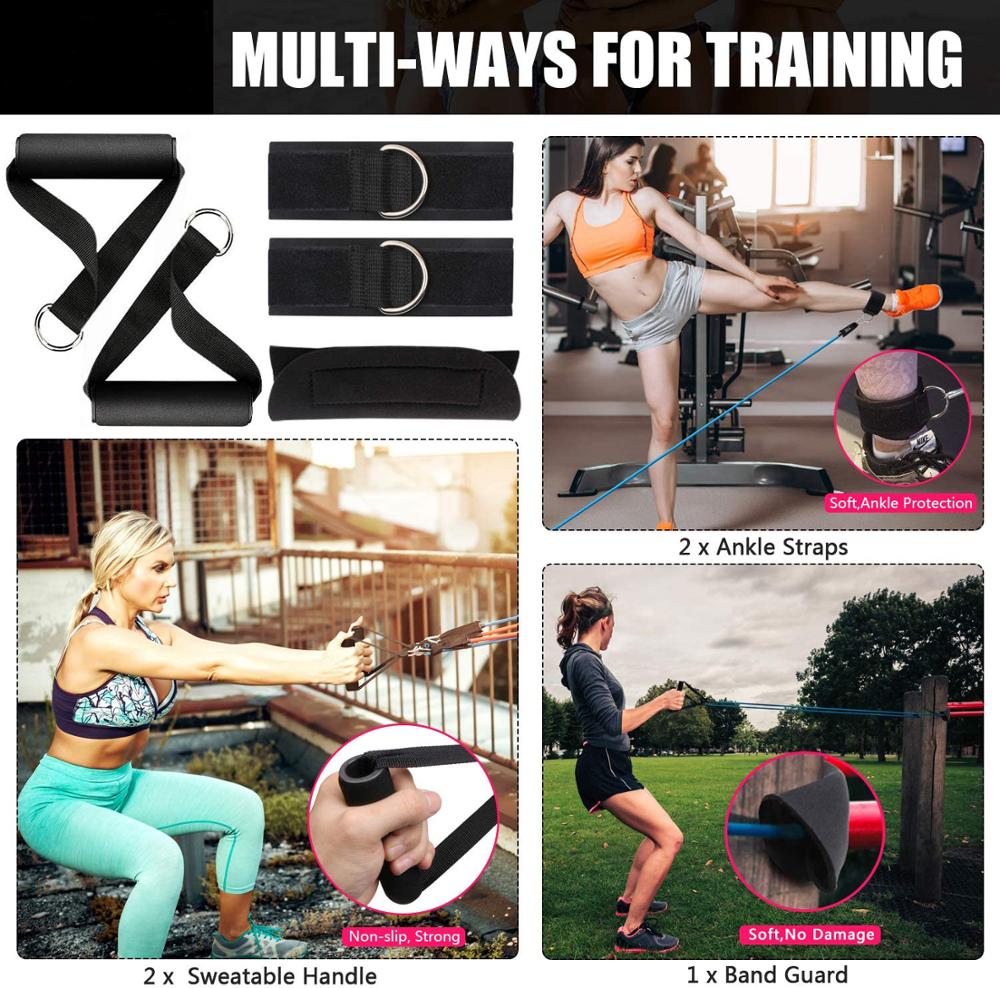 workout Resistance Bands
Whether at home or outdoors, all you need is to work out with these resistance bands set, and your body weight will get the same results as exercising at a gym.
It comes with a carry bag, allowing you to take it wherever you go quickly!
These exercise bands can be used for CrossFit, Yoga, Pilates, Stretching Exercises, Fitness, Or Other Training Programs.
Multifunctional & Portable
Our bands can apply to different types of exercise. Perfect for toning your arms, shoulders, chest, glutes, legs, etc.
It also comes with a convenient travel pouch!
Personal Home Gym
This resistance band set includes five exercise bands, five loop bands, one door anchor, two cushioned handles, a carrying case, and a user manual that allows you to perform the widest variety of resistance training exercises possible at home.

You can also take your bands to the gym or office and even work out on vacation!
Highest Quality Materials
The resistance band is made of durable good rubber bands.
Strong wear resistance and perfect elasticity, steel metal buckle for more muscular strength, non-slip handle, comfortable and absorbent.
5 Color Exercise Bands
Yellow (10 lbs.), Blue (20 lbs.), Green (30 lbs.), Black (40 lbs.), and Red(50 lbs.).
All exercise bands are 36" long and can be used alone or stacked in any combination to a maximum equivalent of 150 lbs.
Packing List:
100LBS100LBS ( 10LB/15LB/20LB/25LB/30LB)
With TPE material, there is no weight scale on it.
Packing List:
150LBS150LBS ( 10LB/20LB/30LB/40LB/50LB)
With durable good rubber tube and Weight scale on it.
Shipping
Yes we ship anywhere in the world, and our shipping is free!
Our order processing time is 1-5 business days. After dispatch, it usually takes 5-20 business days for orders to be delivered.
When your items are shipped out, you should receive notification from us via email providing you with a tracking number.
If you haven't received one or if the tracking number doesn't work, its okay. Contact us and we'll fix it! If you need
more detailed information, please send us an email at info@byloh.com and we'll help you out!

You have 30 days to ensure you're delighted with your purchase.
*If for any reason you're not happy, you can contact our Customer Service Department within 30 days after purchase and let them know you'd like to return your order.